This past week I had the opportunity to hear Coach Mike Krzyzewski "Coach K" speak in Chicago.
His talk focused on one of my favorite topics:   Team Leadership.  
Coach K centered the speech mostly on his role as Team USA's head coach.  The part that struck me was his talk about the US military and his background with the US Military Academy.  He summed it up well.
Our US Military is so good….they ensure that THEIR "games" are always played away, and not home.
How many countries can claim that?
After coming home from a week on the road, I caught myself playing "woe is me!"  First, I have this week off, and for a person that makes his living building and executing plans, I have NO vacation plans!  That started getting me down, albeit briefly.  Second, I started noticing all the talk on TV and Social Media about Memorial Day being the "unofficial start of summer."  Summer always conjures up great images and smiles that accompany them.
Vacation
BBQ's with friends & family
Fireworks
Fairs & Festivals
Ice Cream.  Hot Dogs & Hamburgers.
The Ocean.  The Lake.  Splashing around.  Laughing.
The Beach.  Making Sandcastles with your kids.  The Boardwalk.
If you're a Jersey boy like I am, YES, the Jersey Shore where you will see all of the above.
Summer is all of these things, and Memorial Day marks the start of many of them.
While breezing through some powerful images on Twitter, I had another one of those "snap back" moments.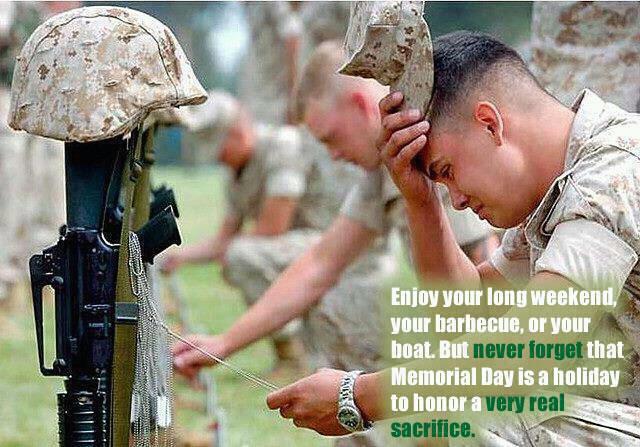 Snap Back
Memorial Day is about being grateful for those heroes who have died in the line of fire for our country's freedom.  It's about being thankful that there are self-less people who serve our country and defend our freedom.  Recognizing that our fighting force is the greatest on the planet.
And yes, it is about recognizing that vacation plans, vacations themselves only exist because we had people come before us, making the ultimate sacrifice.  And there are people away from home this very moment, defending our freedom.  Life's greatest heroes.
Memorial Day Matters.
Not because it's the start of summer, or the start of vacation.
Memorial Day matters because our great American Heroes have made both of them possible.